Starting work and planning for the future
Starting your first job is exciting, especially when you get your first month's pay. It brings financial freedom and puts you in charge of your own money. It also gives you the chance to set financial goals and come up with a plan to achieve them.

After starting your first job, it's natural to have an idea of how you want to be in five or 10 years. This could mean further studies, buying a property, getting married, or even starting your own business. No matter what the goal is, you will need money to realise it.

Be realistic when setting goals. While short-term goals are often easy to reach, longer-term aims like getting married or buying a property can take years or even decades. The sooner you come up with a plan, the more time you have to save money to reach your goal.

Your first short-term goal should be to save for an emergency cash fund. It should be enough to cover your expenses for six months. The Savings Goal Calculator on Investor and Financial Education Council website can help you estimate how much to save and for how long, in order to reach your goals.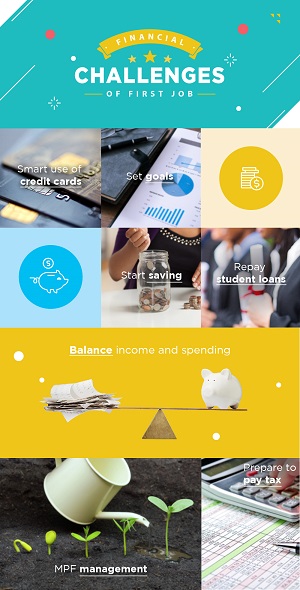 Make a monthly budget
After setting goals, it's time to manage your income and spending. Your first job probably won't be very well paid, but it's tempting to spend. Even so, it's much better to be careful and avoid living from paycheck to paycheck.

Use the Money Tracker mobile app to set a monthly budget, record income and track expenses. It can also compare the budget you set with actual spending. This allows you to manage your money all the time, anywhere.

Save before spending
It's important to learn good saving habits while you are still young. The key is to always save before you spend. So, after getting your wage, put aside 10 to 20% as savings straight away. The rest can be spent as you wish. The sooner you start saving, the more money you will have due to the compound effect. This will boost your financial freedom.

Most people have lots of things they want to buy but don't have enough money. Simply put: if you buy this, you can't buy that. It's important to know the difference between what you need and what you want. Think about what you will do with what you buy. Ask yourself: "Would it cause me any problem in the coming months if I don't buy it?" If the answer is no, it means you don't really need it.
---
More financial issues to think about
1. MPF management
The Mandatory Provident Fund (MPF) is a long-term saving and investment scheme for retirement, which both you and your employer put money into. When you start work, your employer has to enrol you for the MPF scheme within 60 days. The contribution is 5% of your income for both you and your employer. Good MPF management is important, as it will affect how much money you have when you retire.

2. Repay student loans
If you have a student loan, put aside part of your salary to repay it. You can set up autopay so you pay on time. Student loans are from public money. Paying on time is your obligation and a social responsibility. Also, late payments will mean surcharges and interest. This could affect your credit history. You can use "SFO E-Link" to check your repayment schedule and history.

3. Smart use of credit cards
When you first get a credit card it's tempting to spend money you haven't earned yet or buy things you can't afford. Apart from spending on necessities like meals and transport, young people also like to buy trendy clothes and gadgets. But it's best to buy what you need rather than spend too much. Do not fall into the "enjoy now, pay later" trap. Repay the full amount before it's due, as interest on a credit card can be more than 30%.

4. Prepare to pay taxes
Hong Kong has a provisional tax system. When you receive a tax return you must report your income, deductions and claim allowances. For example, you can claim tax deductions on MPF contributions. The Inland Revenue will assess your tax for this year and the next, based on what you report. Therefore, tax is for the current year, while provisional tax is for the next year. As a result, the total amount for a tax bill could be very high. You should prepare by using the Salary Tax Calculator to work out the tax due on your wage, then save based on how much you need.
(Information source: Investor and Financial Education Council)